"The world as we have created it is a process of our thinking. It cannot be changed without changing our thinking." – Albert Einstein
Many individuals in healthcare have now read the National Academies of Science, Institute of Medicine (IOM), 2015 report entitled "Improving Diagnosis in Health Care"1. If you have not read it yet, I highly suggest you do. What many may not realize is the original study that lead to this report was entitled "Diagnostic Error in Medicine"; the committee at the IOM determined that "Improving Diagnosis in Health Care" was a more fitting description as it incorporated the multidisciplinary team aspects of the entire diagnostic process1. The #1 recommendation from their report on how to improve diagnosis was to improve, and in many facilities establish, the teamwork in diagnosis1.
So why should we do this? Is it not the patient's physician who is responsible for their diagnosis?
While this archaic viewpoint is not entirely false, unacceptable levels of misdiagnosis have forced the medical community to rethink this stance. A 25-year analysis of US malpractice claims estimated that 80,000-160,000 patients experience serious harm due to misdiagnosis2. Unfortunately, these are only estimates based on malpractice claims and only those with serious harm; there are potentially exponentially more misdiagnosed patients since many never go to litigation, do not cause immediate serious harm, and even go completely unrecognized as a misdiagnosis. Recent estimates have as many as 4 million occurrences of diagnostic error annually3. This means what has always been done in the past is not working. This means we have to do something different if we want to see positive change in our patient outcomes.
If we should be in treating patients in teams, who should be on the team?
The IOM report also addressed this and developed the graphic in Figure 1 depicting the potential participants in a diagnostic team. Although the physician still maintains the primary patient-physician relationship, there is team that should come together to review, assess, and make recommendations, especially on more complex patients. Both Pathologists and Laboratory Scientists are included in this paradigm as both are untapped resources with much to offer. Until now, medical culture has considered laboratory professionals as ancillary inhibitors of the diagnostic process. However, times are changing. Culture is changing. The IOM stated "health care organizations should facilitate and support collaboration among pathologists, radiologists, other diagnosticians, and treating health care professionals to improve diagnostic test processes"1. They have called upon us, and our health care facilities, to come out of the proverbial basement and join the diagnostic team.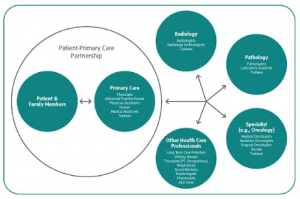 Isn't this just for PhD's, DCLS's, and Pathologists?
Absolutely not! There are many opportunities for non-doctoral laboratory professionals to reduce diagnostic error. When you see an incorrect order, speak up! When you see a chronic issue that affects patient safety or health care quality, start a quality improvement project! When a physician asks what could interfere with a test result, look at the test package insert and let them know! Volunteer to serve on a departmental or a hospital quality improvement committee.
The diagnostic team is not only the core team that scours the patient's medical record looking for an answer, but also those in the background who support the core team and ensure they are making the best decision for the patient. If your facility does not have a DCLS, PhD, or Pathologist who is able to participate on the patient core team, it is up to you to ensure those on the core team have the best information possible.
This may be a new thought process for many laboratory professionals, however a necessary one. We must change our antiquated views of what we can or cannot do. We must embrace what we should do. Our patients are counting on us.
"It's only after you've stepped outside your comfort zone that you begin to change, grow, and transform." – Roy T. Bennett
Diagnostic Team Members and Tasks: Improving Patient Engagement and Health Care Professional Education and Training in Diagnosis. National Academies Press (US): Institute of Medicine; 2015 Dec 29 2015.
Saber Tehrani AS, Lee H, Mathews SC, et al. 25-Year summary of US malpractice claims for diagnostic errors 1986-2010: an analysis from the National Practitioner Data Bank. BMJ Qual Saf. Aug 2013;22(8):672-680.
Newman-Toker David E, Schaffer Adam C, Yu-Moe CW, et al. Serious misdiagnosis-related harms in malpractice claims: The "Big Three" – vascular events, infections, and cancers. Diagnosis. Vol 6; 2019:227.